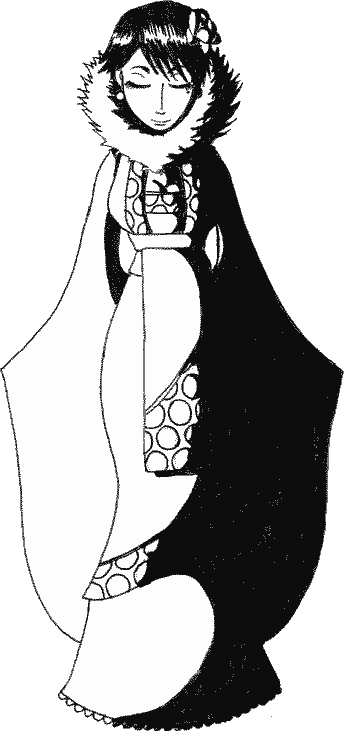 Wěn Luàn 紊乱 (born Pyu Pyu)
Pyu Pyu was quietly born to very happy korean parents in the town of Qingpo, China, in the year 232. As Pyu Pyu grew up, the child had an obsession with torturing insects and small animals, often making elaborate designs out of body parts and laying them out on the street. She loved dressing up and always acted proper around adults, yet treated other children horribly, as if they were on a lower plane of existence to her. Due to her strange actions around the town, many villagers moved away from the area, fearing that the child may have been possessed or worse.
In her teenage years she became disgusted with her self, finding out that she hadn't been born the same as the other children at that time, often taking blades and other objects to her body. Pyu Pyu could never follow through with fully hurting herself, so she would take it out on dogs and cats, looking completely unamused as she tore them limb from limb. Eventually the children of the village had started disappearing, plus nobody had seen or heard from Pyu Pyu's parents for over a week, so a group was formed to investigate their home. Inside was a horrific scene, a crimson mass of body parts nailed to the walls in no particular visible pattern, the floor a red pool of blood and gore like out of a splatter film.
The girl was nowhere to be found.
For several years after her disappearance, there was news of several gruesome deaths in random towns around china, all carrying with them the trademark of the Qingpo killer. Despite this, Pyu Pyu roamed the land, being welcomed by every family she came across due to her innocence and politeness. One unfortunate family in Jian Ye had welcomed the girl, in little under a week most of the family was strung up to the walls and ceiling, except for one sibling, Qiao Sen, who had wandered into the carnage. Pyu Pyu tensed the muscles in her legs, ready to launch herself at the girls throat, but relaxed as the girls face widened into a sick smile. Taking Qiao Sen under her wing, Pyu Pyu left the village, the duo heading straight for the next town.
Eventually all the killings came to a sudden stop. The two stood in the middle of a once populated town, Pyu Pyu looked to the sky and smiled, calling out to anyone upstairs that was listening.
"I'm not content with this scale any more!"